AVIATICON SKM Bio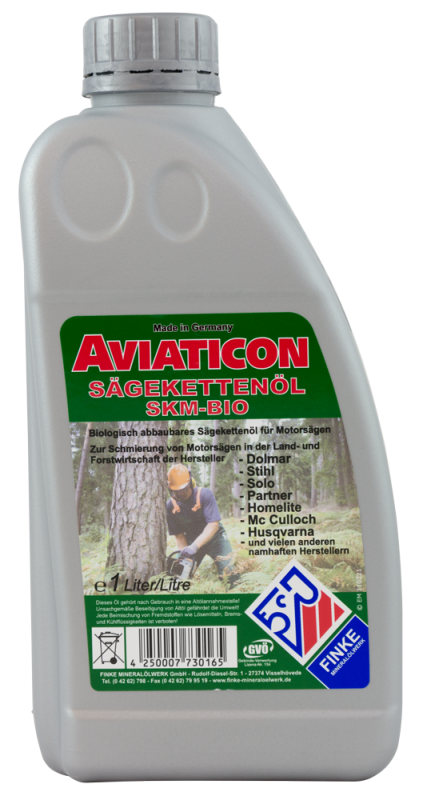 Biodegradable chain saw medium
AVIATICON SKM Bio is a biodegradable saw chain medium based on plants, KWF tested with a blue angel.
AVIATICON SKM Bio is easily biodegradable and does not contain any toxic substances. It is mainly used in the lubrication of chainsaw chains in agriculture and forestry, in the woodworking industry, in horticulture and in the private sector for felling, cutting, delimbing and cutting.

Biodegradation: 86% OECD 301 B, Pr.-Nr.:160873413. SGS Institute Fresenius GmbH.
Eigenschaften
gute Haftfähigkeit
gute Oxidationsbeständigkeit
gute Viskositätsstabilität
gutes Kältefließvermögen
hervorragender Verschleißschutz
optimales Tieftemperaturverhalten
containers:
containers:208 Liter
208
LTR
containers:1000 Liter
1000
LTR
Product classifications / specifications
Klassifikationen
Blauer Engel
EU Eco-Label
Kuratorium für Waldarbeit und Forsttechnik e.V. KWF-geprüft
Einsatzempfehlungen
Bei Fachagentur Nachwachsende Rohstoffe e.V. gelistet
Dolmar
Homelite
Husqvarna
McCulloch
Partner
Solo
Stihl
certifications
www.blauer-engel.de/uz5
DE/027/294
containers:
1 Liter
5 Liter
20 Liter
60 Liter
208 Liter
1000 Liter
https://www.finke-oil.de/Produkt/aviaticon+skm+bio